sparky
Was Killed on Sep 14, 2022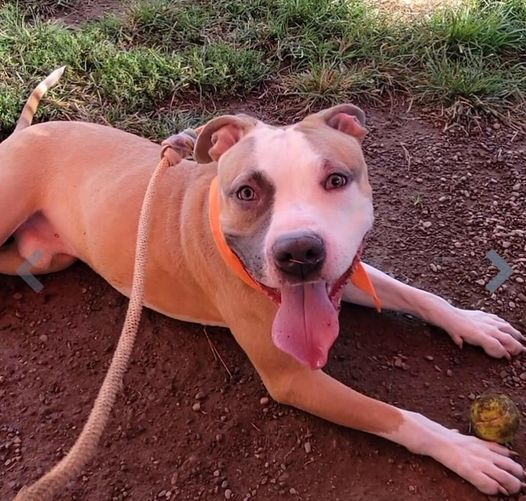 sparky
Breed:
Pit Bull Terrier (mix breed)
Age: Adult
Gender: Male
Size: Large
About

sparky
: SPARKY ACCT-A-120140 is currently considered urgent and at risk of euthanasia due to lack of space for incoming dogs and length of stay.. He must have confirmed placement with an ADOPTER or RESCUE PARTNER by Wednesday, September 14th at 10:00 a.m. Should Sparky's medical or behavioral status change, his urgency and timeline for placement may also change. Adult only household is recommended at this time due to jumping behavior. Email lifesaving@acctphilly.org if your rescue can pull or if you can foster through rescue. Sparky is a loveable handsome lug who came to the shelter as a stray with wounds on his face on 8/10. A vet exam showed that he had a dirty, small healing cut on and in his ears, and a healing wound on his nose and face. He also had irritation in the web of his paws. Luckily, he healed quickly although he did come down with an upper respiratory infection on 8/17. He has since recovered and is back to being a happy and bouncy guy with boundless energy! He loves people and other dogs, although he is so exuberant that his energy would better be suited to an adult only household. This wonderful guy urgently needs to leave with a rescue partner or adopter who can help him out with some decompression time and training, and give him either an active human friend, or a patient doggie buddy who can help wear him out from all that excess energy! On 9/8 staff wrote:"What a handsome and sweet guy! Very strong, but came out ready to play with his new doggie friend. Loves to run around, but does get overstimulated with too much going on and then jumps up." From staff on 9/8:"I haven't had many interactions with Sparky. But whenever I walk by his kennel he barks, could be to get my attention, and occasionally growls. The shelter is a stressful place so I never take it personally. I have taken Sparky out on a few walks to get him out. He is a strong boy on the leash and would benefit from a harness. He is a happy boy to be outside and will solicit attention, you just need to be careful if you're on his level because he could knock you off balance with his love. Sparky is an active dog who would benefit from an active home who could show him adventure. Sparky would thrive in an environment that could provide him an outlet for his energy and receive his unending love in return." From a volunteer: "He was a fun boy with a personality that just made you smile. He was strong at first on his leash but settles down after the excitement. He loves cuddling when you sit down and soaking in all the booty scratches. UPDATED NOTES- 9/10 Per Volunteer- He is a very happy dog, and was initially excited to be in the yard, so he did some jumping and mouthing, just untrained, younger dog behavior. However, he then settled down and enjoyed chasing balls at a leisurely pace, and bringing them back. He seemed to understand drop, but I still exchanged balls with him. After several throws, he was content to just lay down and chew the ball. Would recommend o young kids for now due to jumping and mouthing. He is just a younger boy who plays rough - just seems he had no training. Video: NEW VIDEO: Sparky playing fetch- https://youtu.be/Vz7zOtlOoG8 Sparky loves pets: https://youtube.com/shorts/XkpODlQiqgg?feature=share Sparky meets Beautiful (fence meet): https://youtube.com/shorts/IKecNj4sF44?feature=share Sparky meets beautiful: https://youtube.com/shorts/aPGwVkQAlOc?feature=share Confirmed placement is considered confirmation of an actual rescue pull. Possible placement, interested parties, and other "TBD" statuses are not considered confirmed and do not indicate an animal is no longer urgent. ACCT Philly is located at 111 West Hunting Park Ave in Philadelphia. We are open for adoptions 7 days a week. Please visit www.acctphilly.org/adopt for details.
Philadelphia Animal Care and Control takes in 6,000 dogs a year. These listings are maintained by volunteers in an effort to increase lifesaving. The dogs that are Timestamped must leave the shelter prior to the date of their timestamp or they will be euthanized. This dog's status can change at any time. Act quickly if you are interested in adopting.
Dogs designated 'ONLY Available to Love Local Partners with ACCT Philly' need an approved rescue to pull them and a foster home to care for them. If you can help, email lifesaving@acctphilly.org
DogsInDanger does not accept pledges. If you wish to pledge for, or sponsor, a dog, contact the shelter.
For information on adopting from ACCT Philly visit their website
http://www.acctphilly.org
Click Here to DONATE to This Shelter