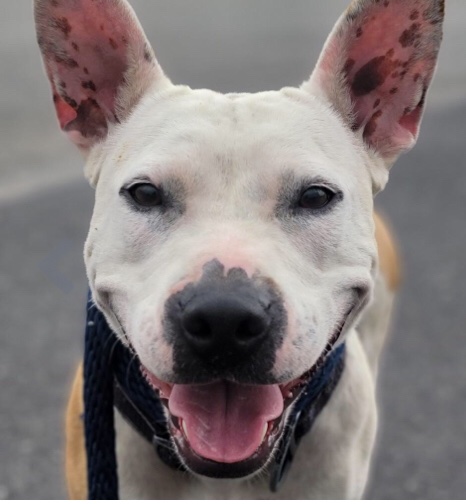 trust
Breed:
Pit Bull Terrier (mix breed)
Age: Adult
Gender: Female
Size: Large
About

trust
: Trust ACCT-A-117726 is currently considered urgent and at risk of euthanasia due to behavioral concerns. Trust must have confirmed placement with a RESCUE PARTNER by Wednesday, July 20th, at 10 a.m. Should Trust's medical or behavioral status change, her urgency and timeline for placement may also change. Email lifesaving @acctphilly.org if your rescue can pull or if you can foster through rescue.💥 7/17 volunteer interaction: Trust is very unsure of her surroundings at present, but really opens up around other dogs. She gave some alarm barks in kennel, and then came to the front and allowed the volunteer to leash her. She hopped out with no issue and went for a walk. We brought her into the large run to relax, and she sat, then laid down for an extended time. She didn?t approach either volunteer or attempt to interact until another dog was brought to the fence. She then followed this volunteer to the run gate, and followed her out to meet the other dog. Trust showed an immediate loosening of body in the presence of the shepherd. She appeared to forget that she was scared, and gave play signals. After the meet, we all walked back, and she entered the back door with no issue. She hopped back into her kennel with no issue. A nylon leash was left on (it will loosen/ fall off in kennel) due to nervousness when unleashing/bringing hands close. We did not attempt to pet Trust as this was our first interaction. She did sniff the volunteer?s hand/touched hand with nose. Trust had no interest in jerky treats. The Helper dog helped her tremendously. Per acct portal: Trust is a three year old, 38 lb, medium sized mixed breed who came to ACCT after her owners could no longer keep her due to landlord restrictions. In the home Trust lived with three children. The owner said that you need to act kind or fearful with Trust for her to be nice, but that she will attack if you are stern with her. Since arriving at the shelter Trust has been very fearful and hesitant to interact. Trust needs time to warm up to handler's and even after multiple meets Trust continues to be hesitant with new people. While out with volunteers and staff Trust will walk on the leash but will stop and stare at her handler's often and will tense up if her handler gets in too close. In a quiet room Trust would tense up and growl if her handler tried to interact or move closer to her than three feet. Trust needs very slow intros to new people and situations. On the 17th Trust showed some progress and allowed her handler to lightly pet her back after 25 minutes hanging out together. Trust has also had good dog meets while in our care and would benefit from having a multi fog home to help build her confidence. Trust urgently needs to be placed with a rescue partner who has the time and resources to support Trust's behavioral needs and give her time open up. Per volunteer: Trust is a female. She took a tiny bit to leash. I won her over with chicken nuggets. She only backed away from the leash one or two times. She walked out the kennel fine. Outside we walked a liitle she was smelling around. We met up with Elizza they met and did ok. Trust was nervous so was Eliza they gave a couple nice sniffs to each other slowly. As we walked more they became more comfortable with us the volunteers and each other dogs they were fine walking up Hp together. I only gave Trust a couple light pets as I understood her body language and she wasn't ready for full on touches or other physical contact. She didn't growl but I knew she's new and needed more time and friends to make her more comfortable. Trust walking https://youtu.be/Z_dvpUdYl6o Trust meets cupcake https://youtu.be/mtCoglir0Fk Trust meets Eliza https://youtu.be/7esTpU8Z-mE https://youtu.be/Nsa7a3_Mx0k https://youtu.be/fL4247ENMeo https://youtube.com/shorts/vmQSVVNhPvc?feature=share Confirmed placement is considered confirmation of an actual rescue pull. Possible placement, interested parties, and other "TBD" statuses are not considered confirmed and do not indicate an animal is no longer urgent. ACCT Philly is located at 111 West Hunting Park Ave in Philadelphia. We are open for adoptions 7 days a week. Please visit www.acctphilly.org/adopt for details.
Philadelphia Animal Care and Control takes in 6,000 dogs a year. These listings are maintained by volunteers in an effort to increase lifesaving. The dogs that are Timestamped must leave the shelter prior to the date of their timestamp or they will be euthanized. This dog's status can change at any time. Act quickly if you are interested in adopting.
Dogs designated 'ONLY Available to Love Local Partners with ACCT Philly' need an approved rescue to pull them and a foster home to care for them. If you can help, email lifesaving@acctphilly.org
DogsInDanger does not accept pledges. If you wish to pledge for, or sponsor, a dog, contact the shelter.
For information on adopting from ACCT Philly visit their website
http://www.acctphilly.org
Click Here to DONATE to This Shelter