DogsInDanger.com urgent dog in need of your help!
lady
has -11 day left to live!
At risk to be killed: 2022-11-23 Reason: Space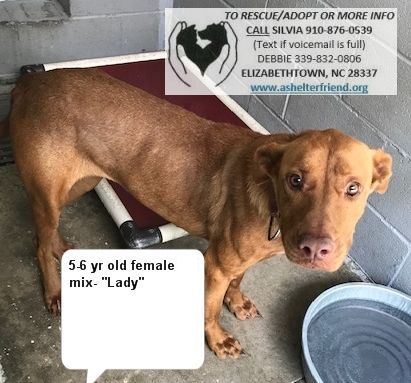 lady
Breed:
Labrador Retriever (mix breed)
Age:
Adult
Gender:
Female
Size:
Medium
hasShots,
About

lady:
Lady is a good girl who really needs a home of her own and to be safe. She is a good girl. ⭐️ TRANSPORT IS AVAILABLE TO OTHER STATES! Elizabethtown, NC PLEASE READ: A Shelter Friend is NOT the county kill shelter. We post these pictures and videos in an attempt to network so that they may find an adopter or rescue. Some of these pictures are disturbing yet it would be even more disturbing to allow these animals to die without trying everything in our power to save them. Please help us do so. Share, pledge, beg rescues. We need all the help that we can get! Please CALL NOW IF YOU HAVE ANY QUESTIONS OR are interested in rescuing or adopting. ASF volunteer Silvia 910-876-0539 or Debbie: 339-832-0806 or email bladenpets@yahoo.com
Don't adopt just because you feel sorry for
lady
!
Adoption should be a well thought out decision, it's a lifetime commitment.