nova
Was Killed on Sep 13, 2022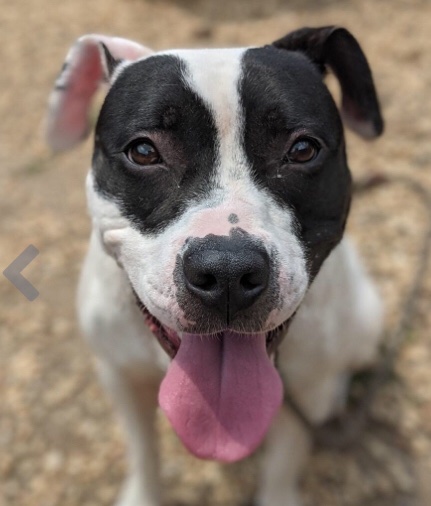 nova
Breed:
Pit Bull Terrier (mix breed)
Age: Adult
Gender: Female
Size: Large
About

nova
: NOVA ACCT-A-93955 is currently considered urgent and at risk of euthanasia due to length of stay of almost 1 month. Nova must have confirmed placement with an ADOPTER or RESCUE PARTNER by Thursday, September 15th at 10:00 a.m. Should Nova's medical or behavioral status change, her urgency and timeline for placement may also change. Nova is a lovely black and white mixed breed dog who has unfortunately been a frequent flyer at the shelter. She was originally surrendered by her owner in July of 2021 due to being involved in an incident with another dog where a fight occurred, and when the owner tried to break up the fight, the owner was bitten. Her original owner reported her to be sweet, cuddly, playful, and friendly with people, but not great with other animals. The owner who surrendered her stated that she got Nova when another person threatened to tie her to a tree. Nova was adopted from the shelter, but was sadly returned a year later by the adopter as she was moving to a new residence that did not allow pets. The adopter also stated that Nova was not good with other animals, but was a good protector. However, during the intake process, per staff, Nova did not pay any attention to the other animals walking by her, and was even good with another dog that came in as a stray at that time. Also, Nova has had a dog meet through the fence previously and it went very well! It may be that Nova is dog selective and just needs the right doggie friend. During her intake exam, Nova was noted to have a dirty coat, dirty ears, and broken teeth, so she may need follow up dental care in the future. Nova has quite a few staff and volunteer friends due to her repeat stays. On 8/17 a volunteer noted:"Nova has a lot of energy and would be great with a running partner or a yard she could call her own. She's also very playful, knows sit, and can also take a moment to chill when she needs it - she's a great girl." 8/14: "walks great on leash, calm around other dog thru the fence" 8/15: "the sweetest girl, very easy to leash and walk, zoomies in the yard, knows sit." 8/20: "interested in other dogs - loved to roll in the grass and sunbathe" 9/2: "seems playful with other dogs, nice walker" Videos: https://youtube.com/shorts/UuAt1oIMzwQ?feature=share https://youtu.be/-ZomAO8Efho (nova playing in yard) https://youtu.be/-O-7XgoNL6E (Nova and Bonnie through fence) Nova enjoying the hose: https://www.youtube.com/watch?v=UuAt1oIMzwQ&feature=emb_logo https://www.youtube.com/watch?v=TeTf-FjemhE During her previous stay, Nova became extremely stressed in the kennel environment. She urgently needs to leave with an adopter or rescue partner who can give her a stable environment in which she can decompress and finally find a permanent forever home. Confirmed placement is considered confirmation of an actual rescue pull. Possible placement, interested parties, and other "TBD" statuses are not considered confirmed and do not indicate an animal is no longer urgent. ACCT Philly is located at 111 West Hunting Park Ave in Philadelphia. We are open for adoptions 7 days a week. Please visit www.acctphilly.org/adopt for details.
Philadelphia Animal Care and Control takes in 6,000 dogs a year. These listings are maintained by volunteers in an effort to increase lifesaving. The dogs that are Timestamped must leave the shelter prior to the date of their timestamp or they will be euthanized. This dog's status can change at any time. Act quickly if you are interested in adopting.
Dogs designated 'ONLY Available to Love Local Partners with ACCT Philly' need an approved rescue to pull them and a foster home to care for them. If you can help, email lifesaving@acctphilly.org
DogsInDanger does not accept pledges. If you wish to pledge for, or sponsor, a dog, contact the shelter.
For information on adopting from ACCT Philly visit their website
http://www.acctphilly.org
Click Here to DONATE to This Shelter