---
2021 CALENDAR
Get the calendar that will warm your heart all year long! Each month features pictures of furry best friends, many who are alive today because of DogsInDanger.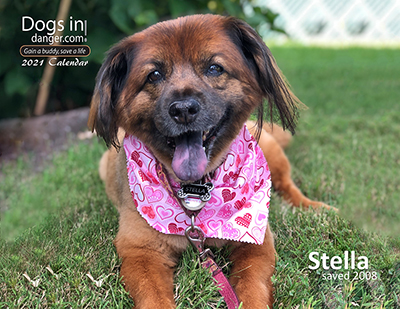 2021 DogsInDanger Calendar

---
ONE TIME DONATION
Want to help us help the dogs? Make a one time donation quickly!
This is an easy way for you to support our mission to end the killing of dogs. Enter any amount in the payment box, click the "Donate Now" button, you will become a Friend of Buddy! With great thanks and appreciation from us, and the dogs.
---
MONTHLY RECURRING DONATION
Recurring monthly gifts provide a consistent, reliable income that allows us to spend less time fundraising and more time saving lives. It's an easy, efficient and tax-deductible way to help stop the killing.
With this method you continue to help our efforts with a recurring monthly donation. You select the amount and the number of months, we will debit your credit card monthly and send you a notice each time. This level of giving makes you a member of the Buddy Club, an inside circle of supporters whose loyalty to our mission runs deep.
---
MEMORIAL DONATION
---
GIFT DONATION
Honor someone special in your life with a donation to support DogsInDanger. Perfect for holidays, birthdays, bar mitzvahs or any special occasion!

Click here to read more
---
---
DONATE BY MAIL
---
WEDDING FAVORS
---
WEDDING GIFT
---
PLANNED GIVING OPTIONS (BEQUESTS)
---