Sniffing out the waves: Doggy surfing contest brings smiles to spectators
Surfs Up!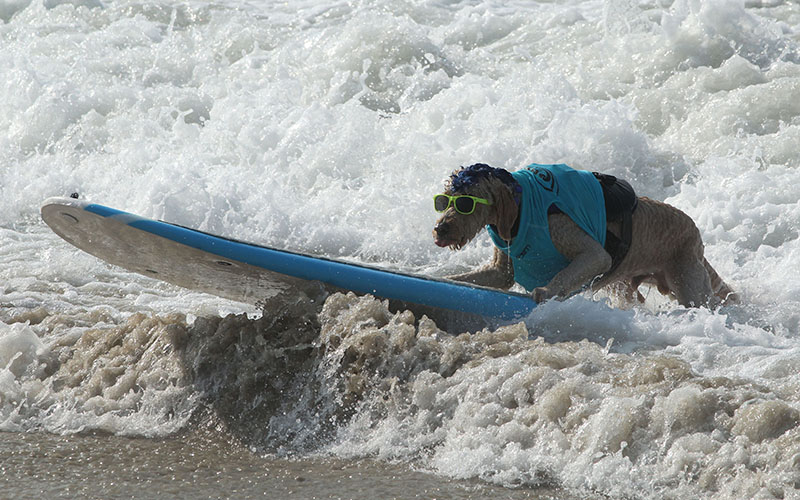 Derby the goldendoodle was one of the most stylish dogs out there, rocking a blue mohawk and sunglasses at the Surf City Surf Dog competition in Huntington Beach on Saturday.
The winners of the Surf City Surf Dog contest were clear: Everyone who was on a board or watching from the beach.
For five hours on Saturday, Sept. 25, a few hundred– two- and four-legged alike – came to watch from the beach a mile north of the U.S. Open for Surfing. Rather than doggy-paddling out into position, participating pooches were put on boards and towed out by owners and volunteers to catch the next wave.
"It's the smiles that matter," said Donald Horn, the owner of two surfing Cavalier King Charles spaniels, Samson and Delilah. "If you look at the beach today, everybody is smiling, and that's because we all love our dogs."
Over the past 12 years, more than 500 dogs have ridden the waves along the famous Surf City coast in these events. More than two dozen canine surfers were judged by professional surfers, and the scores were based on the length of the wave, confidence of ride and the difficulty of the wave and other factors.
The event included other attractions for dogs and the people who love them, such as canine play zones and pet adoptions.
The field was divided by weight classes, with the smallest dogs going first. From West Highland terriers to miniature pinschers, the pooches rode the waves with surprising control of the big surfboards.
As the tide rolled in later in the day, bigger dogs hit the surf. The tide brought bigger waves, which made things a little hairy for many of the dogs.
After the solo competition came the "double dog" heat, which was dominated by the goldendoodle duo of Derby and Teddy.
Daniel Royce is the owner of Teddy the goldendoodle, and the two started surfing because of Teddy's affinity for the water.
"He's barking, yelling the whole way out until he gets on the board," Royce said. "I don't have to put him on the board, he just jumps on."
The day ended with dog/human tandems before each pooch received a participation medal and the top dogs won trophies.
Horn and his spaniels have surfed competitively for nine years. Samson, white with black spots, rides backwards at the back of the surfboard and Delilah, white with brown spots, works the front. Both also competed in the small dog heats.
Like any owner, Horn has a lot of love for his dogs. He choked up at times talking about how much they have meant to him on their journey to discover dog surfing.
"(Samson) always liked the ocean," Horn said. "When he was about 5, we saw some videos of dog surfing. I thought, 'I wonder if Sammy would do that.'"
Samson interjected with emphatic barks of affirmation during Horn's retelling of the story.
"So I bought a cheap board, took Sammy to the beach and stuck him on, and his first three waves rode them all the way to the beach," Horn said. "I thought I had a winner.
"Everybody wants their dog to win, but the dogs don't give a darn who wins. Even though we're all competitive and we want our dogs to win, that doesn't stop us from helping the person we're competing with. That's what it's all about."
This day meant a lot to Horn and his dogs. Samson, 14, officially retired after Saturday's event. Delilah, 11, still has some competitive surfing years left in her.
"It's emotional," Horn said. "It isn't going to be his last ride. He just loves it so much."
The two will still surf together outside competition just for fun, but as Horn pointed out, it was never about competition for the dog, it was just about the fun.
"That's what it's all about," Royce said. "Putting on a show and having fun."
*** David Rodish expects to graduate in 2023 with a degree in sports journalism. Rodish, who has covered sports and politics for The State Press, is working in the LA Sports Bureau.
Republished under Creative Commons license. Originally published by The Cronkite News. Original article may be found by clicking here.
Lost pet network finds Garden City dog 300 miles away
Ready for some good news? This is Ashley's story.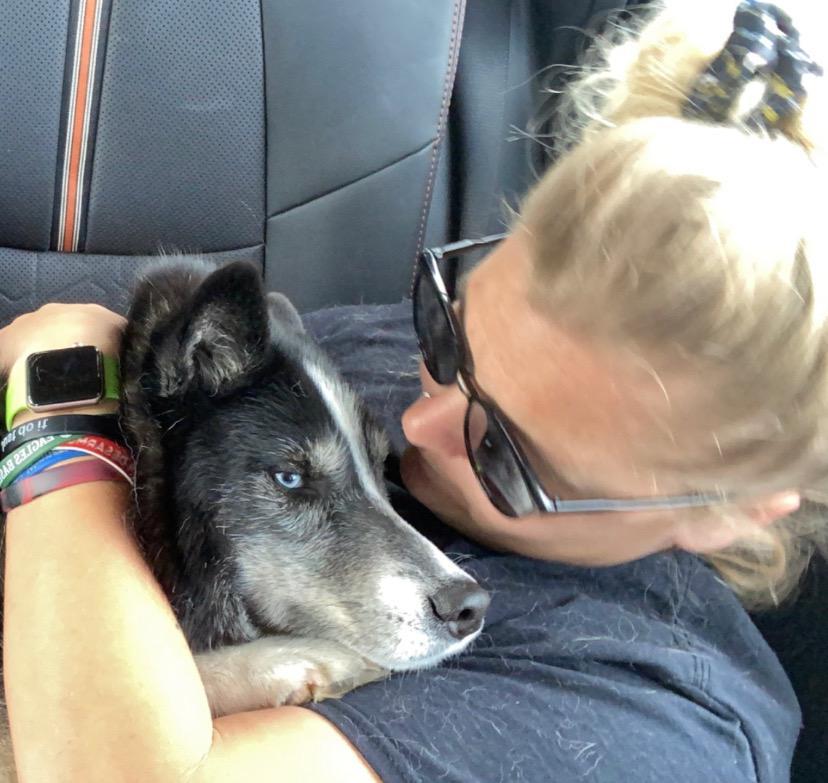 Ashley With Brittany Novickis
If she were asked to list one of the worst days of her life, Brittney Novickis likely would say March 7, 2020, the day her beloved husky, Ashley, disappeared.
Hands down one of Novickis' best days would be March 22, Sunday, the day she got a telephone call from Daytona Beach, Florida, saying that Ashley had been found.
How the dog ended up nearly 300 miles away from Novickis' Garden City home is a complete mystery. But Novickis and her fiancé Paul McCarthy are only grateful and relieved that Ashley was found. She credits social media and the help of caring friends and strangers for a happy ending to a sad story.
As soon as she got word that Ashley was missing, Novickis began scouring her neighborhood calling for the dog and looking everywhere.
"I was out walking until 2 a.m. looking for her," she recalled. "It was awful."
On that fateful day, both Novickis and McCarthy were working. She was in Rincon and he was across town in Savannah. They figured that the dog sitter left the door open around 2 p.m. and Ashley wandered away. McCarthy came home around 7 p.m. and saw that the door was ajar. He immediately began trying to reach his bride-to-be. He and Novickis adopted Ashley five years ago he knew it was going to be a challenge to find her because the dog had a huge head start.
Novickis had been giving softball lessons and hadn't checked her cell phone.
″(McCarthy) had called me about 57 times," she explained. A former college softball player, Novickis came to Savannah to enroll at Savannah College of Art & Design where she earned a master's in painting.
After discovering that she "really missed softball," she started offering lessons, fell in love with her students and their parents and decided to make softball a career.
"I can't even call it a job because I love it so much." She has her own business called A2B Mechanics and averages working with 100 athletes a week. She travels to nearby counties and into South Carolina to teach softball mechanics. She often takes Ashley to the lessons.
Ashley is one of four dogs owned by Novickis and McCarthy. For a long time, they only had Ashley and Mavis, who began grieving soon after Ashley disappeared.
"She stopped eating and laid by the door," Novickis said of Mavis, who is a Labrador rescue. (Their other two dogs are Banner and Rae Belle.)
Immediately, Novickis posted Ashley's picture and information on various Facebook lost and found pages. As the days and weeks dragged on, Novickis continued with her Facebook comments. On March 20, she wrote: "I just can't help thinking where she is and what she's doing. If someone has her I hope you're taking care of her and giving her the love she had in our home."
Novickis and McCarthy regularly canvassed their neighborhood and talked to both the Garden City Police and truck drivers passing through the nearby port. The couple, as well as softball parents and players in other counties, put up fliers and spread the word on Facebook. Friends of friends shared the post and put the information on numerous lost and found pages.
Meanwhile, the young couple was baffled that nobody had even spotted Ashley. It was almost as if the dog had disappeared into thin air. (The couple theorizes that Ashley must have gotten picked up by a concerned truck driver who saw her on the loose. Ashley then may have escaped from the truck driver around Daytona.)
On March 22, Novickis received a call from Hailey Lingo, a Daytona Beach pet advocate who regularly checks Facebook's lost and found pages.
"I have my own pet sitting business and I'm big in the fostering community," Lingo explained, adding that she has two rescue dogs of her own. "I had just gotten off the Halifax (County) Humane Society Facebook page and then read about Ashley on a lost and found page out of south Georgia," she recalled. "I said, 'hey that looks like a dog I just saw on the humane society page.'"
Lingo reached out to Novickis and told her she thought the dog was Ashley. Novickis, in turn, called the humane society in Daytona and explained the situation to the person who answered the phone. The woman told Novickis that the dog had been found nearby without a collar, was turned into them on March 13 and listed as a stray. (Ashley was wearing a collar and tags the day she disappeared.)
"I asked her to go back to the dog and say 'Ashley' and tell her to sit and speak," said Novickis, who was put on hold for what seemed like forever.
The worker finally returned to the phone and told Novickis that she approached the kennel and said five or six names before saying Ashley. When she did the dog recognized its name and started jumping up and down.
Novickis couldn't believe what she was hearing. She and McCarthy gathered Ashley's veterinarian records and jumped in the car to drive to Daytona. When they arrived, they were led to the kennel.
"I was so excited. I knew it was her instantly," Novickis said. "I saw her goofy little grin and just knew." The heartwarming reunion was filmed by humane society personnel, shared on its Facebook page and went viral with than 500,000 views.
Novickis and McCarthy couldn't be happier. "We are thrilled," she said.
And what would she tell other pet owners whose fur babies are missing? "I prayed," she said. Don't give up hope and keep sharing (on social media). Let people help you and, overall, just don't give up."
To view the reunion video go to facebook.com (@halifaxhumanesociety).
*** Polly Powers Stramm is a contributing lifestyles columnist for the Savannah Morning News.
The opinions expressed are solely the author's and do not reflect the opinions and beliefs of the website or its affiliates.
Republished under Creative Commons license. Originally published by Savannah Morning News. Original article may be found by clicking here.
Collateral Love
Sometimes we make decisions that irrevocably change our lives.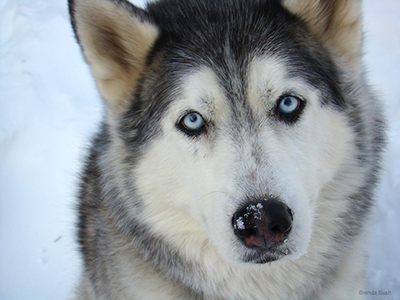 Vila
Warm doggie breath and two big blue eyes greet me as I awake at 6:00AM. As my beloved furkid, Vila, gently rests her chin on the bed and looks lovingly into my eyes, it's hard for me to remember that this is the same dog that has driven me to tears and complete frustration so many times.
Sometimes we make decisions that irrevocably change our lives. Already with two young active dogs at home, I certainly didn't need another dog. Two dogs should be enough for anyone, and indeed it was. But I was committed to fostering for a local Siberian Husky rescue group, and a vacancy at home meant one more life could be saved. It wasn't long after my foster dog Iciss was adopted that I was searching for another dog to foster.
On September 4, 2004 I drove to the city animal shelter to find a dog that needed a second chance at life. I brought home an 11-month-old, black and white, blue eyed Siberian Husky, Vila. I still remember that fateful day at the shelter, choosing between Vila and another dog to be my next foster dog. It felt like Sophie's Choice. Vila was seized from neglectful owners. Due to her circumstances, she was deemed more urgent, and so I chose Vila to come home with me. Little did I know at the time, that decision would change everything for me, and for Vila.
Being part of a homeless dog's journey to a loving forever home is a privilege and a blessing that is immeasurable. Finding the strength to let them go after investing your heart and soul in them is only possible by focusing on the next dog that will be saved. Those who foster understand all too well that it is a huge personal commitment which can be a rewarding experience or a disastrous one. It can change your life, forever.
Vila is one of those 'once-in-a-lifetime' dogs that forced me to trade in my warm fuzzy view of dogs. She came to me a high anxiety girl with a truck load of issues --separation anxiety, resource guarding, housebreaking issues, and undersocialization. She had no idea what was expected of her or where she fit into the world. She had no self control and no bounds to her behavior.
Transitioning to a new home is stressful for any dog. Certain undesirable behaviors are expected. Well, I got it all, and them some, with Vila. The first few months with Vila were hell. With no inhibition about bathroom duties, she spent the first three months confined to the room with me or leashed to me. With lots of treats and praise, she gradually learned that outside is where she is expected to go. (Funny, now she is the most assuredly housebroken of the bunch.)
She paced, drooled, and panted through the first weeks but we survived. She was stressed and confused. She bullied the other dogs and would guard the water bowl from anywhere in the house. She screamed torturous screams every time I left her. I had bruises and scratches up and down both arms and legs from her anxiety and displaced frustration after being left alone. She destroyed a storm door and chewed the moulding of several windows. She feared everything new and trusted no one.
I used every behavior modification and positive training technique I knew. I worked with a trainer on her dog-dog and resource guarding issues. When I picked her up from the spay/neuter clinic, the vet's note on her record read 'Needs training and socialization.' Yeah doc, no kidding! In rescue, she earned the nickname 'Vila-monster'.
Two years in rescue went by and Vila was still with me. Adoption after adoption was just not the right match. As anyone in rescue knows, there are lots of dogs like Vila in need of that adult only, dog savvy home. Vila has never bitten anyone, but she's one of those dogs who requires a high level of management, commitment and awareness. At each potential adoption I worried, Would she forgive me for abandoning her? Would they be able to manage her issues? Would they fail her and return her to me even more damaged than before?
I took responsibility for her life the day I picked her up and that responsibility weighed heavily on me. As a foster home, I tried to remain open to considering the right home for Vila if it came along. After all, the goal of fostering is not to help one dog, but rather to help many over time. In the end, I could not bear the thought of asking this high anxiety girl to give up everything she had learned to trust and understand as home, to transition to yet another home. In the process of working through these tough issues together, something else happened. Vila worked her way right into my heart. We had become so attached to each other. It would break my heart to part with her. I don't know where this journey will take us, but I know we are meant to travel it together.
There are many paths through life. Our dogs can and do serve as our teachers. They offer us lessons if we open our hearts to hear them. I taught Vila to trust. She taught me that no tool can subdue adversity more effectively than humor and playfulness, and that unconditional love comes in many forms. From Vila I also learned that what we long for is not necessarily what we get, at least not without having to learn some hard lessons along the way.
With love and patience, Vila blossomed. She approaches each day with unending curiosity and playfulness. Simple pleasures light her entire being with joy. She reminds me every day that life is precious and brief, full of fleeting joys and missed opportunities. For all of her problems, she is boundless in her loyalty and love.
Love and dedication healed much of what had been askew, though not all that is broken can be put right. Vila is still a high anxiety girl and will always be a work in progress. Every time she lays down, she sighes the most dramatic sigh, like she has the weight of the world on her shoulders. But I grew to love this crazy dog, in spite of everything, or perhaps because of everything.
On hindsight, it is clear to me that a dog like Vila never would have survived the shelter. Few adopters choose to take on a dog like Vila, rather one goes into such a relationship unknowingly and over time the dog captures your heart. And so it was with Vila and me.
Life with Vila has consequences, for sure. I knew that by adopting Vila and taking on dog number three, I had reached my personal limit of dogs and my days of fostering were over. To some it may not seem significant, but foster homes are a precious rare commodity and choosing to adopt one's foster dog is bittersweet. For that's many more dogs that will not get a second chance at life. The decision to give up fostering came with a heavy heart. I also knew that in so many ways my life would be dictated by the choice to keep this challenging dog. I knew that in sparing both of us the heartache of losing each other, that I was trading away something unknown but also immeasurable. My heart told me that I needed to make that trade.
*** Brenda Bush is Co-Founder of DogsInDanger.com and serves as Vice-President and Board Member of The Buddy Fund. She left a successful career in the legal profession to fuel her passion for saving animals. She is an advocate and activist on many issues relating to animal rights and welfare. She has been instrumental in many causes and campaigns for companion animals, farm animals and wildlife. She has been featured in multiple media outlets including The Today Show, BBC and CNN, among many others.
The opinions expressed are solely the author's and do not reflect the opinions and beliefs of the website or its affiliates.
CLICK TO READ MORE ARTICLES